Zabriskie House
Built in 1904, Restored in 2019
Located in the heart of Aurora, Zabriskie House's broad, columned front porch overlooks picturesque Main Street and one of Aurora's grand Gingko trees.
Featuring eleven guest rooms, a double parlor with cozy fireplaces, a wood-paneled dining room for private events, a stunning three-story grand staircase, and a private outdoor patio, Zabriskie House serves an ideal gathering spot on warm summer evenings and crisp autumn nights.
Zabriskie House is best enjoyed in the company of other adults. Please note that we do not accommodate children under the age of 12 without a private residence rental.
Dedicated on-site innkeeper

Elegant patio with firepit

Parlors with fireplaces & games

24-hour parking

Glass of wine each afternoon

Coffee & homemade granola bars
Private Residence Rentals
With the rental of all 11 guest rooms at Zabriskie House, you may hold private dinners and events at the home. View our private rental packages to learn more and contact us for pricing and availability.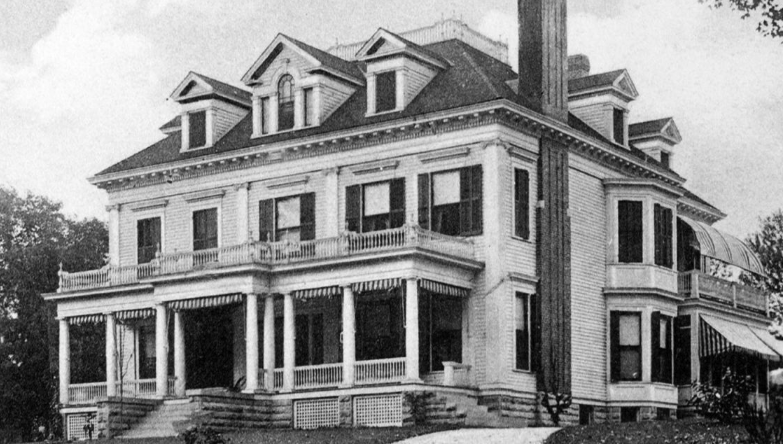 History of Zabriskie House
This stately home was built for E.B. Morgan's grandson, Robert Morgan Zabriskie, in 1904. After pursuing an education at Princeton, Robert returned to Aurora with his wife, where he soon became president of Wells College and dedicated decades of service to Aurora.
Our Guests Say it Best
A Great Stay
My family stayed at the Inns of Aurora for the weekend. The weather was awful, but it honestly didn't matter. Zabriskie House is beautifully renovated and immaculate. The grounds are incredibly maintained. Because of the rain, we spent a lot of time sitting and reading on the rocking chairs in the front porch. It was so relaxing. Really good coffee in the morning, wine and cheese in the late afternoon, and s'mores around the fire pit at night—the latter being an opportunity to meet some of the house's other guests. A special hat tip to Caleb the innkeeper, an exceptionally nice person who could not be more welcoming or accommodating. We are all looking forward to our next stay.
One of the best!
One of the most amazing places that I've been to! This place is just magical. It is very well maintained and the location is perfect. We stayed in Zabriskie House and our innkeeper, Anna, was so sweet and helpful. They offer a happy hour everyday between 5:00 and 6:00 when you can enjoy a free glass of wine with cheese & crackers by the fireplace inside or by the firepit outside. Everything was just perfect our room and the common spaces were extremely clean. It was so peaceful.
A Quiet, Fun Experience
The most relaxing destination in a lovely quaint village setting. We stayed in Zabriskie House. Everything, from the décor to the yummy breakfast bars to the lakefront, was superb. Innkeeper Gerri made our stay even better with her attention to detail. We will definitely be back!
Best Getaway We Have Had
We stayed at the Zabriskie House and it was absolutely gorgeous. We will 100% be back. So peaceful. 36 hours rejuvenated us like a week-long vacation. The town is quaint and calm yet offers amenities one might expect from a larger resort. The service and friendliness was exceptional!